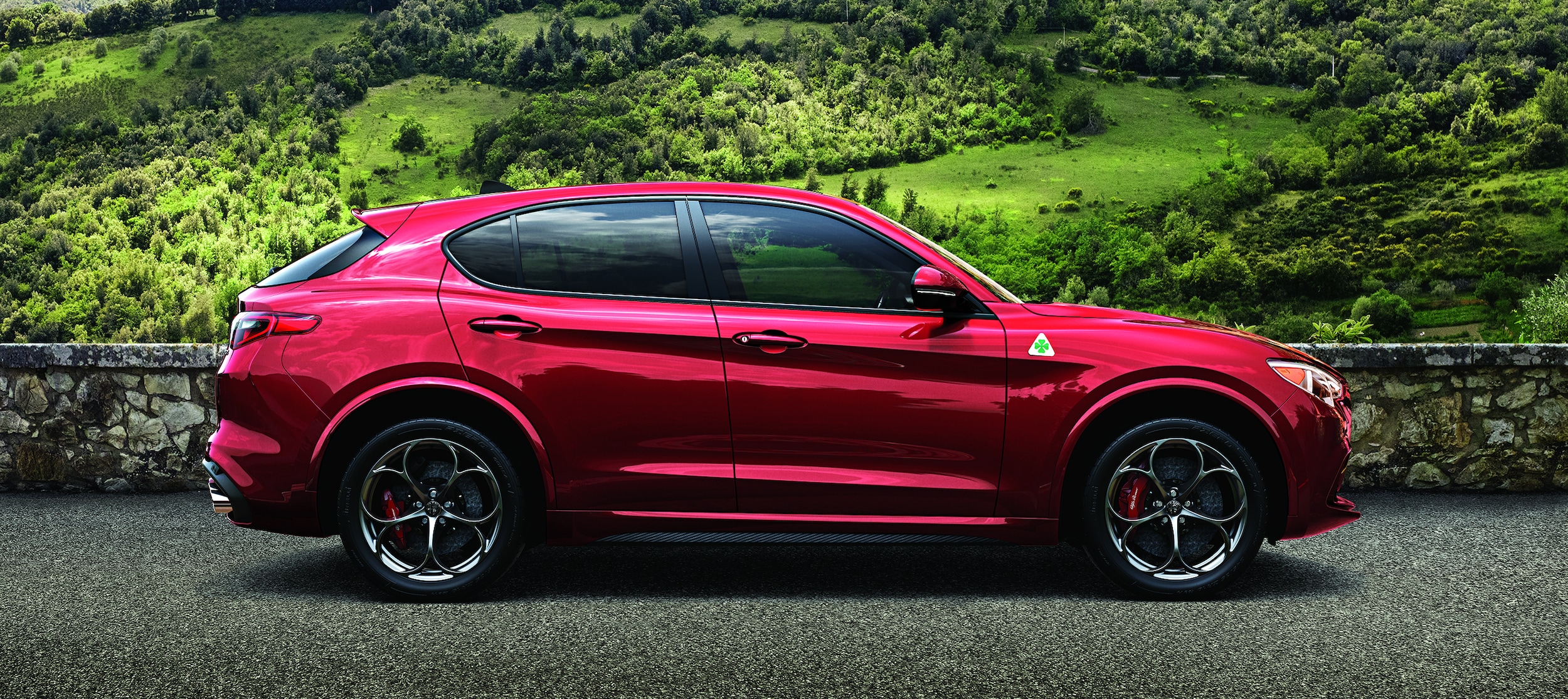 Etched into the mountainous, Northern Italian border, stands a rite of passage for those entering Italy by road. Forty-eight hairpin turns at 9,000 feet above sea level present a challenge only the bravest driver, equipped with the finest machine, would dare to conquer in order to reach the epicenter of automotive performance, design and style. Inspired by the immensity and grandeur of the Stelvio Pass, the dreamers of Milan, engineers of Modena and artisans of Cassino have created the optimal vehicle for those demanding the highest level of performance and utility in equal measure. This is Stelvio. An SUV only Italy could create.

  
Powerful Engines and Performance
The Alfa Romeo Stelvio lineup features only engines of the highest caliber for maximized performance and driving pleasure. Designed and crafted specifically for the newest generation of Alfa Romeo, Stelvio's engines deliver a perfected synchronization between heart, mind and body of the vehicle. Destined to continue over 105 years of performance legacy, Alfa Romeo offers two engine choices that will redefine the standards of automotive thrill.

Stelvio Quadrifoglio
2.9L All-Aluminum, Direct-Injection Bi-Turbo V6
Power: 505 hp (Best-In Class)
Torque: 443 lb-ft (Best-In Class)
Top Speed: 177 mph (Best-In Class)


Stelvio and Stelvio Ti
2.0L All-Aluminum, Direct-Injection Turbocharged 4-cylinder
Power: 280 hp (Best-In Class)
Torque: 306 lb-ft (Best-In Class)
Top Speed: 144 mph
 
Lightweight Structure and Design
The art of speed as perfected by Alfa Romeo is the act of balancing power vs weight. The Alfa Romeo Stelvio is an embodiment of this principle with its lightweight construction and balanced design.


Aluminum Body Panels, Suspension Components and Brake System Elements

Standard Class-Exclusive Carbon Fiber Drive Shaft
Near Perfect 50/50 Weight Distribution






SUV Capability and Control
The Alfa Romeo Stelvio is engineered to deliver sports car performance without sacrificing SUV capability.



Chassis Domain Control
Alfa Active Suspension
Integrated Break-By-Wire System
Standard Q4 All-Wheel Drive

Torque Vectoring Differential (Quadrifoglio Only)

Safety and Security
For drivers on adventurous journeys and daily commutes alike, Stelvio offers safety and security technology to protect everyone on board from whatever the road might throw into play. These features include Forward Collision Warning, Adaptive Cruise Control, Lane Departure Warning, Blind Spot Monitoring and Rear Cross Path Detection.

Driver-Centric Technologies and Features

The center of every Alfa Romeo revolves around the driver and their mission. Stelvio is equipped with a host of technologies to enhance the driving experience.

Alfa DNA Driving Modes: Dynamic, Natural and Advanced Efficiency

Stelvio Quadrifoglio: Alfa DNA Pro with Race mode

Available Steering Column-Mounted Aluminum Paddle Shifters

7-inch TFT Cluster display
8.8-inch Integrated High-Definition Information and Entertainment Display

 900-watt, 14-speaker Harman Kardon Premium Audio
Apple CarPlay or Android Auto






Italian Style and Craftsmanship

The Alfa Romeo Stelvio carries itself with an emotion-evoking sense of Italian style. Visually enchanting, the sculpted lines of Stelvio define an athletic stance of power, crowned with the iconic Alfa Romeo trilobe grille. Inside, the driver and passengers are treated to a testament of traditional Italian craftsmanship.

Full-grain Italian leather
Genuine wood and aluminum surfaces
Hand-sewn accent stitching
Stelvio Quadrifoglio pursues the race-minded driver's preferences with Alcantara™, carbon fiber surfaces and available Sparco™ carbon fiber racing seats.